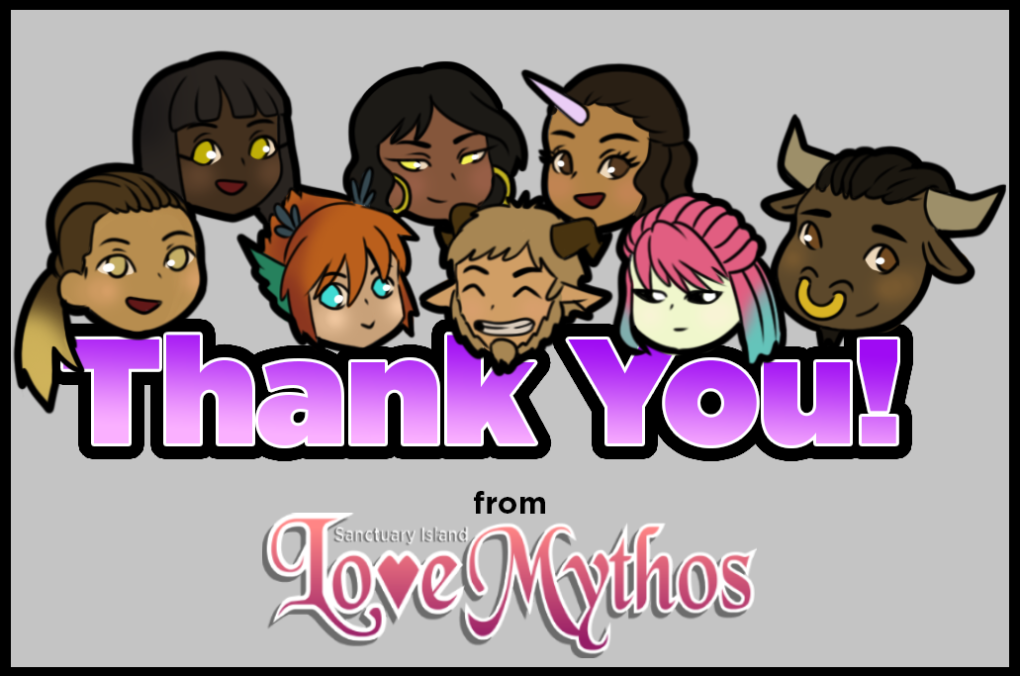 Wow, we never would have thought that in a little over a month our game would have over 500 downloads! That's 5x more than my graduating class in high school. In fact... that more than every single grade in my high school combined! It is so affirming and I hope you all know how incredibly grateful we are! We really appreciate that y'all are enjoying the game, interacting with us and giving us your opinions! We're excited on finishing the whole thing over the rest of this journey. If you liked it, feel free to give us a rating on itch.io~~~
Now, there will be a lot of updates rolling out over the next year as we finish the game. Coming soon is a discord for all Love Mythos followers to interact and for those who pledged the $30 tier or higher to have access to beta builds! We appreciate all of you who have been patient in the week since the kickstarter ended, as there was a lot of ground to cover in our planning for the next stage. We feel, as a team, that we have a very solid path laid out for us with deadlines and check ins so that Love Mythos will be fully delivered in a timely manner.
Now, a bit more serious. For those of you who have played through the full game, you might have noticed in the end credits that it is dedicated to Penny Scandall, a fellow writer and good friend of our writer, (me). This past week was the trail for the man who selfishly ended her time with us, and while justice has been served, it has been an incredibly trying week for all of us. If you want to pay homage to the brilliant woman that Penny (birth name Kelly) was, or contribute to the scholarship in her name for artistically inclined students, you can get a bracelet/donate here: paypal.me/justiceforkelly
And if you can't donate, please, please keep in mind that domestic violence can strike anywhere and anyone. Keep your eyes and heart open, because you never know who might be struggling. And if it's you that's in that situation, know that Love Mythos supports you. We believe in you. And if you need help, you are welcome to reach out any time, any place. You don't have to be alone.
With all the love we have
-The Love Mythos Family
Get Love Mythos: Sanctuary Island